Here at Switchback LED Lighting we also specialize in building and retrofitting headlight fittings.
VF Quad Projectors with RGBW Demon Eyes.
Features:
Projector conversion from standard reflector housing in High Beam. (High Beam H9 changes to a H1 bulb. H1 LED included. (Low Beam retains factory H7)
Quad RGBW Demon Eyes (Controlled Via Smartphone App through Bluetooth)
Housing Blackout.
Projector Lense Etching (None/Honeycomb) (Please contact us straight away for custom etching.)
Customizable "Fin" Colour
Breather modules added to prevent condensation
These headlights are made upon order ONLY; these are only to be ordered via speaking to our staff: mobile/text message/ social media.
INSTALLATION
The headlights plug in as normal (Low beam, parkers, high beam, indicators) but some basic wiring is required to power the demon eyes.
Wired to accessories power (demon eyes will come on when in accessories mode )
Wired to ignition (demon eyes will only operate when engine is running .)
Wired to straight 12V through a switch (This is manual operation, this means that the driver can choose when the demon eyes are on/off.) Leaving them on will flatten your battery
Wiring required:
Positive (Accessories, Ignition, 12V)
Negative (Chassis/ – Terminal of the battery)
We include a fuse tap in our kit with wiring instructions.
Included in the wiring is a switchback function which is optional to connect; this allows the demon eyes to flash amber while indicating. Splicing into the + of the indicator is required to get this working.
There is also a DRL function which is also optional to connect; when the DRL wire is connected to 12v it will automatically change to white for daily driving. This can be hooked up easily with an additional fuse tap installed into the fuse box in an ignition fuse, this will mean that you halos will change to white while the engine is running and still allow the switchback function to operate normally.
For any additional information on the functions listed above please contact us.
INCLUDED:
2x Modified Custom Headlight Fittings
1x Wiring kit (Switchback driver module, bluetooth module and power supply)
2x Extension harness (generally the passenger side headlights halo connections will be too short to reach the drivers side.)
1x Tube of dielectric grease. (This MUST BE used in all 3 pin plugs to prevent water damage. Failure to do so will void warranty on the product)
PARKERS (T10), LOW BEAM (H7), INDICATORS (T20) NOT INCLUDED! High beam is included due to the H9-H1 bulb change.

These can be added at an additional cost.
We recommend applying a PPF or Ceramic Coating on headlight lenses for optimal lifespan of headlight lenses. 
NOTE FOR US CUSTOMERS:
Our headlights start off as a RHD beam pattern. Upon ordering, we look at your shipping address to see if you are a US customer. If you are, we convert our RHD projector cutoff to a LHD cutoff to suit driving on the opposite side of the road to us. This beam pattern is a ECE pattern which complies with our Australian standards, however US standards usually use a different type of lens cutoff called DOT. Please see the differences of the beam patterns below.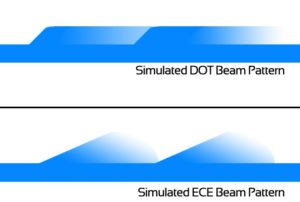 Please note: Our headlights are shipped to US customers with a LHD ECE Cutoff.
LEGALITY FOR ROAD USE
For off-road use only. Please refer to our ADR law information page in the footer (bottom) of our site.
https://switchbacklighting.com.au/adr/

Lead Time
We estimate a 3-4 week lead time from when the order is placed to when the customer receives the product.
WARRANTY PERIOD
We offer a warranty period of 12 months for any defects in build quality that is affected when building these headlights, this includes headlight seal, and internal paint. Please note: OEM and Aftermarket headlights to suit VF CAN be subject to condensation on the inside of the headlight lens. This is due to the insufficient amount of breathers on these headlights, we do our best to combat this issue: 2x bolt on breather vents added, extra precautions taken when sealing headlight and 1x 10g silica packets are added inside the housing to help prevent this issue.
9 times out of 10 customers will not have this issue, but sometimes in high humidity situations mixed with cold weather it is quite common. Our warranty DOES NOT cover light condensation.
PLEASE NOTE: There is a common issue with the design of these headlights when blacking the housing out. The placement of the projector lens in conjunction with the shroud is very close, if these are left in hot/sunny environments the lens can act like a magnifying glass and reflect onto the bottom section of the shroud. Prolong exposure can cause the bottom of the shroud to start to melt due to this reflection. The only way to truly prevent this issue is to leave the shroud chrome so that the heat is reflected.
Please refrain to leaving your car in these conditions to avoid this issue, as our warranty does not cover this.
We do not offer warranty on the headlight fittings themselves from TYC.